Porches & Canopies
Elegance and practicality on your doorstep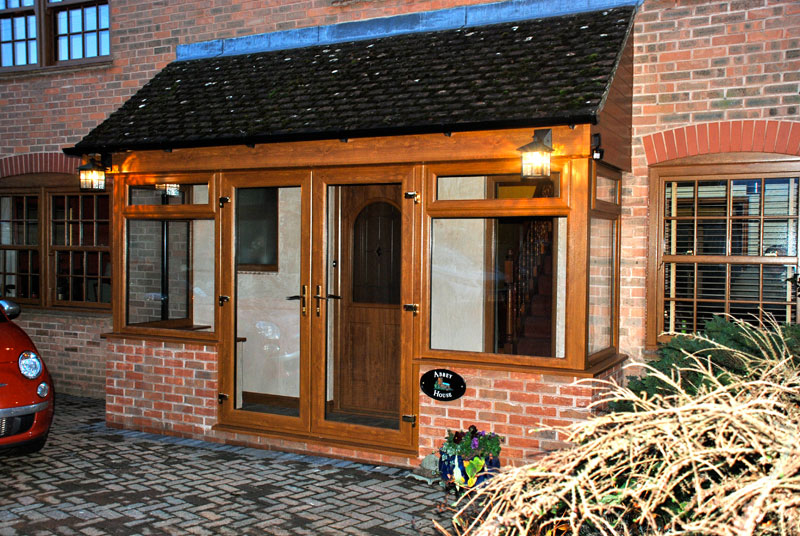 Porches & Canopies
Here at Evesham Glass, we offer an array of different porches and door canopy options for you to choose from. All our products provide a chance to improve the features of your home as well as a chance to create additional space for your home and provide further security for you and your family.
Evesham Glass offers you the choice of both modern and traditional styled porches and canopies for your home. Every design and colour option has been taken into careful consideration by our craftsmen and from the feedback from our customers.
At Evesham Glass, everything is made to measure and designed with you in mind, because it's your home we're helping to improve and therefore you are at the heart of every decision we make in terms of our products and service. That's why 97% of our customers keep coming back as well as recommend us to their family and friends.
Porches and Canopies made to your specification
Evesham Glass offers a range of modern and traditional styles to suit any home. All our canopies and porches are made to your specification to ensure your home matches your vision.
Door canopies are manufactured in strong, durable and maintenance-free GRP
Evesham Glass offer a choice of grey, terracotta or red brick tiled roofs, featuring total resistance from any discolouration or staining
Our canopy columns and pillars include Plain Grecian, Fluted Grecian and Kent styles
Exceptional quality PVCu porches range from simple in-fill panels through to full porches with both roof and base
Low maintenance PVCu is strong, resilient and never requires painting
Our colour range of porches and canopies ensures we complement our whole range of products should you decide to buy further products from Evesham Glass
A further feature of our porches are the double glazed units, which provide excellent thermal and noise insulation from the outside world
Here to help
At Evesham Glass, we're here to help you every step of the way. From expert guidance to that question you want to call us about because you forgot to ask us when we were measuring up, we want to ensure you're happy throughout the whole process and that means communication at every stage.
Quotations guaranteed for 30 days
We also offer two services to all our customers to make the process even easier. If you feel your mind's already made up, then simply get in touch and we'll send you a quote. Once accepted an expert surveyor will come round to measure up your instalment, all quotations are guaranteed for 30 days!
Unsure and need a bit more help? Then one of our consultants will be more than happy to help and advise you with designs to suit your home and budget. We believe these two services give you even more choice when choosing Evesham Glass and don't forget 97% of customers would recommend us to their friends and family or use us again.
All our building work is backed by a 10 year guarantee.
If you're interested in a Free No Obligation Quote then contact us now!
Free Quote?
Contact us if you're interested in a Free No Obligation Quote.